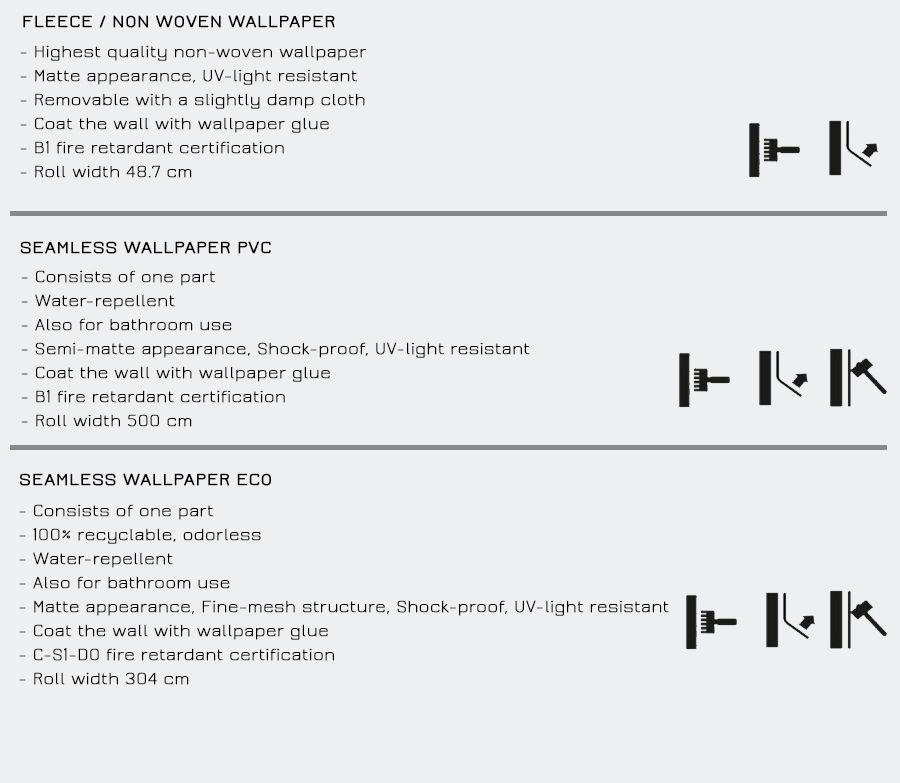 Tailor Made wallpaper:
It is possible to have the wallpaper made to measure.
Let us know your wishes and receive an advice.
 
Wallpaper shipment
We ship for free within the Netherlands.
We also ship worldwide with UPS. Delivery time on average 1 week.
Contact us for the possibilities.
 
Wallpaper instructions:
What you should pay attention to and how you hang the wallpaper is written on the wrapper of the roll that comes with the delivery.
Or read our tips & tricks here!
You can purchase supplies such as glue and a DIY set via our webshop or at your local DIY store.
 
Wallpaper service:
Our wallpaper is fairly easy to install yourself. If you don't have time for this, then we do know professionals.
We are happy to refer you to our network of professional wallpaperers in the Netherlands.
 
 
ACOUSTIC WALL PANELS
 
Acoustic damping panel with high sound absorption
100% recyclable. For good acoustics in offices with a 'hard' interior.
Acoustic filling of recycled clothing that meets fire class B / S1 / D0.
In addition, the top layer is made of fire-retardant material.
Easy to hang 3 cm thick frame of black, anodized aluminum.
You will receive a complete set that you no longer have to assemble yourself.
Minimum size 100 cm x 100 cm. Maximum size 200 cm x 160 cm.
Delivery time 7 days.
 
Shipping panel:
Depending on the size, it can be a heavy package. We consult with parcel services about the current freight rates for the requested dimensions and destination. Delivery including frame is currently possible to Benelux, Germany and France.
 
 
CARPETS
 
PVC Waterproof Rug
Flexible Floor Print on roll. Hard-wearing design, sealed with a 2 mm transparent layer.
Non-slip. Sound dampening. Fire retardant. Environmentally friendly and sustainable printin
Minimum size 300 cm x 100 cm. Maximum size 300 cm x 1500 cm
Delivery within 14 days within the Netherlands.

Carpet shipping:
Our carpets are heavy in weight. Depending on the requested sizes and destination, we consult with parcel services about the options and freight rates.
 
Installation:
The area rugs can be attached separately or with a double-sided underlay tape.
Ask about the possibilities.
 
Prices:
Contact us for a customized quote.
 
Examples in brochures and on the website may differ in color and design from the original in connection with monitor and or printer settings. A color deviation per production batch cannot be excluded. The delivery time may vary depending on production, transport and customs.